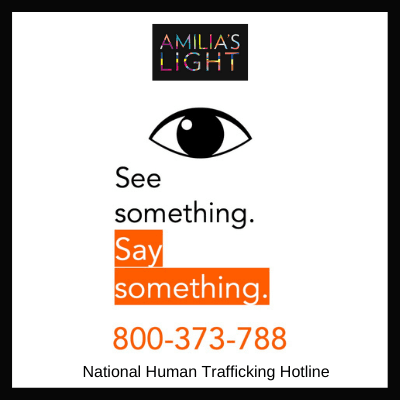 It might be the house in your neighborhood - no one knows who lives there.. they are private and just keep to themselves... but every time you go by, there seems to be a different car out front, and you wonder...
It might be the young people at a fast food restaurant...dressed too old for their age, coming in to use the restroom, while the older person they are with gets the order.  Seems almost normal, but when they rush in and out, and don't speak or look anyone in the eye, and there "person" watches their every move with an eagle eye...you wonder..
Is this typical teen behavior?   
You reason, that it's probably none of your business - but your gut is telling you otherwise...and in the end - you believe there is nothing you can do.  But there is..  
How you can help.
Save the National Human Trafficking Hotline # in your phone:  888-373-7888
Don't hesitate to use it (I have) -  it's anonymous  and you could save a life.
 
Learn the signs..  Recognizing key indicators of human trafficking is the first step in identifying victims and can help save a life. Here are some common signs to help recognize human trafficking:
Indicators of Human Trafficking
Does the person appear disconnected from family, friends, community organizations, or houses of worship?
Has a child stopped attending school?
Has the person had a sudden or dramatic change in behavior?
Is a juvenile engaged in commercial sex acts?
Is the person disoriented or confused, or showing signs of mental or physical abuse?
Does the person have bruises in various stages of healing?
Is the person fearful, timid, or submissive?
Does the person show signs of having been denied food, water, sleep, or medical care?
Is the person often in the company of someone to whom he or she defers? Or someone who seems to be in control of the situation, e.g., where they go or who they talk to?
Does the person appear to be coached on what to say?
Is the person living in unsuitable conditions?
Does the person lack personal possessions and appear not to have a stable living situation?
Does the person have freedom of movement? Can the person freely leave where they live? Are there unreasonable security measures?
Not all indicators listed above are present in every human trafficking situation, and the presence or absence of any of the indicators is not necessarily proof of human trafficking.
Many non-U.S. citizen victims do not have legal status in the United States, which is a reason victims may not come forward. Traffickers also use victims' lack of legal status to exploit and control them. Immigration relief is a critical tool because it provides a way for victims to feel secure and stabilize their status in the United States.
 These indicators are sourced from Dept. of Homeland Security,  dhs.gov, https://www.dhs.gov/blue-campaign.