A Message of Hope
She was born to a family of 10.  
When her father died, her mother struggled to provide for all these children. Hope had to find work, while still attending high school.  She found work as a housemaid - but she wasn't being paid.   She turned to prostitution to make ends meet. 
She became pregnant and the father refused to support her or the baby.  She had no other job skills and had to keep selling her body.
But there was hope for Hope
A community representative was able to connect with her, and she was brought into the Empowerment Program at 10,000 Lights Women's Centre in  2019.  There she healed and developed a sense of agency  "I changed my behavior, after going to the character development sessions", says Hope. 
"During my time at 10,000 Lights Women's Centre, I was counseled and shown unconditional love,
which gave me new hope."
After she completed the training program in Hair Dressing, Hope started working at a Salon in the city centre.  She reported that her stay at the 10,000 Women's Centre taught her not to be dependent on men.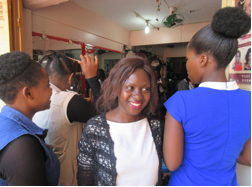 Excelling and Paying It Forward
As an exemplary participant at the 10,000 Lights Women's Centre, Hope was chosen to become one of the Empowerment Program's Field Coordinators.  In this role, she connects with her 2019 classmates and encourages them to stay the course, and to remain involved with the Centre.
Hope's desire is to advance her education and to open up her own salon.
You can empower more survivors of CSE with your donation today.