10,000 Lights Women's Centre- Kampala, Uganda
The Empowerment Program 
We are partnered with Daughters of Freedom- Uganda, an NGO in Uganda. Together,  we established the 10,000 Lights Women's Centre in Kampala, Uganda,  We provide scholarships to young women who have survived Commercial Sex Exploitation and Trafficking (CSET) for the centre's Empowerment Program, which assists survivors assimilate into the workforce.
We've enrolled 92 young women so far!
We started with a small salon and on the job training, in March of 2016.  Since then, we've expanded The Empowerment Program, by focusing on 3 aspects of empowerment:  Wellness, Education, and Life Skills.  The program runs 5 days a week, and works with 20 students per session.    We now  adding a training center with professional comprehensive training in hair styling.  We also added a second program in tailoring. The newly opened center has a classroom and a small hair salon. Program participants are provided with ½ day classroom instruction in either hair styling or tailoring, and students in the hair styling program are able to practice working with customers in the attached small salon.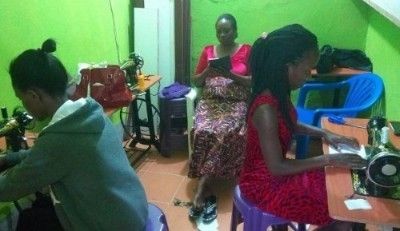 In 2020 - we'll enroll yet another new class.
In January, we'll begin work with a new class of survivors of CSE.  Participants will be interviewed and offered a scholarship at the EP.  The young women chosen, have all completed DOFU's Seven Steps to Freedom Workshop.
We're dreaming big again!  A new Health Program
The vision for the Empowerment Program is a holistic approach, treating mind, body and soul. To that end, we are planning to add programs which will address medical and mental health, PTSD, and personal development. The goal is to equip these vulnerable survivors with skills  to act independently and impart a sense of agency, so they can be be free to make their own choices."
Longer term, our goal is to have a permanent structure for the business center that will house additional businesses and be able to train and employ more women. Our goal is to launch the participants into their own businesses or other careers of their choosing.  Ultimately, we want the empowerment program to become self-sustaining through its businesses.