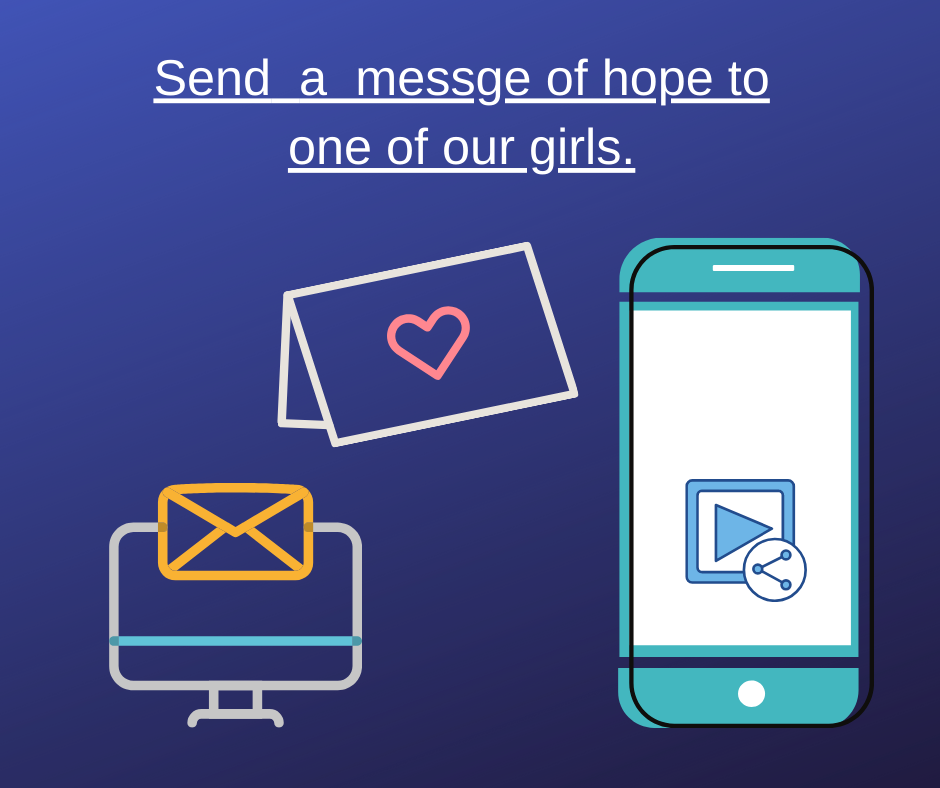 Let them know they are not alone, by sending a message of hope.
Write an email, or photo message with encouraging words of hope, a favorite poem, or a funny story and let them know your thinking or praying for them. 
Get the kids involved!  Have them make a card, or a drawing, and then post the pic on our facebook page.  
Post a video  Send us your funniest, cutest, hopeful video message. 
Send a photo message  of your card, or of a flower, the sunshine, a rainbow!  Post on our instagram page. 
We'll make sure these messages gets to the young women in our program.
Let them know they are not alone. 
Tele-counseling:  in lieu of an on site group and one to one counseling.
We are raising funds to support internet and phone service for the girls, so that they can remain in counseling and receive support tools, such as yoga, and EFT to manage stress and anxiety.
Tele-trainings (via what's app) Experts in Anti-trafficking are expecting the numbers of victims to rise during and after this pandemic. We are establishing new short term income generating training programs to address this. 
We are raising funds to supply them with materials for mask making, liquid soap and hand sanitizer. This will ensure them some minimum funds for basic daily living.