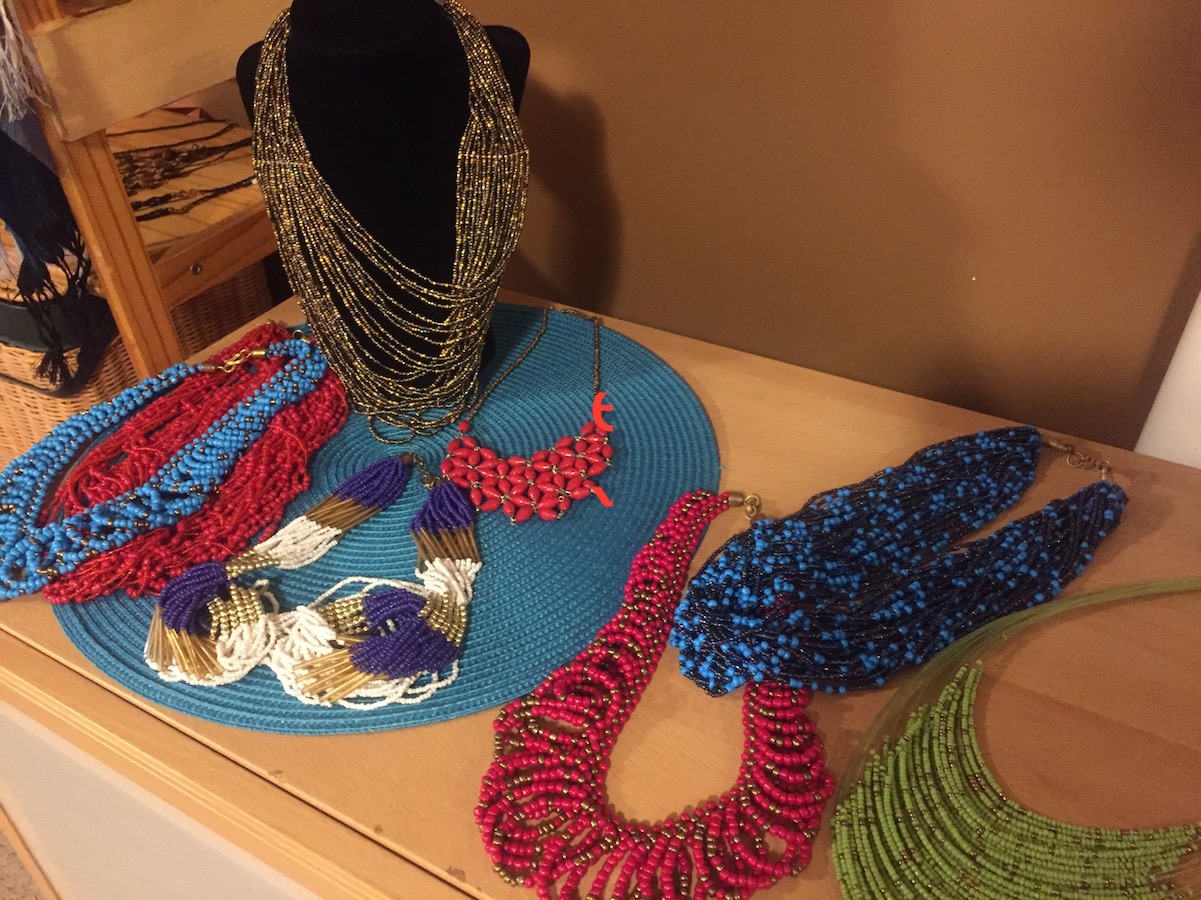 Plant a Seed of Hope with your jewelry purchase!
Wednesday June 13th, 2018
10:00 am - 12:00 pm
7:00 - 9:00 pm
26 Loeffler Lane, Medfield MA 02052
Need a gift?
Purchase meaningful gifts for graduates, teachers, family, and mentors
Treat yourself to some great summer jewelry! 
Michelle is moving!
All items are dramatically reduced to close out prices.
Help Amilia's Light clear out inventory and save on storage
Join us for some light fare and beverages as we celebrate the year in Amilia's Light. 
How and Where is this jewelry made?
This jewelry is handcrafted by young women affected by commercial sex trafficking in Uganda.   Each and every bead is made by wrapping tiny paper strips around a pin, to create the desired shape and size, and then lacquered. After they dry, a design is created, by stringing the beads into earrings, bracelets and necklaces, using a variety of shaped and sized beads. The process takes HOURS.
Who Benefits from your purchase?
We purchase the jewelry directly from the women in the Empowerment Program who have made the jewelry. This provides some money to help them purchase a meal, buy a school notebook, or pay for transportation to the training center.  
Proceeds from the jewelry sales here are sent back to our partner, Daughters of Freedom-Uganda (DOFU).  This helps support their outreach program, which engages young women in slum areas of Kampala, who don't have resources to provide school fees, food, and basic needs. 
What happens next? Growing your seeds
Girls and women who successfully complete DOFU's outreach program, are interviewed for acceptance into the Empowerment Program (EP) , where they receive skills training in tailoring or hair styling and are offered apprenticeships at the 10,000 Lights Women's Business Centre ( 10KWBC).  The 10KWBC is a social enterprise, a for-profit business, supporting a social justice cause.  Currently the EP provides skills training in tailoring and hair styling.  Profits from the business are funneled right back into the program to support more women survivors of commercial sex trafficking (CSE) 
How are lives changed after training at the Empowerment Program? 
Seeds of Hope blossom and young women, now empowered, can walk the path to freedom. 
Working at 10KWBC provides more than just skills training.  Young women learn how to budget, save, and plan.  Life and vocational skills are taught and practiced.  Boundaries are established, personal development, character building and leadership lessons are woven into the program. 
After apprenticeship at the 10KWBC, our program participants are using their newly acquired skills in many ways;
mentoring survivors who are new to the Empowerment Program
saving and budgeting for additional schooling 
providing food and shelter for themselves and their families
permanent work at the Empowerment Program
full time work at other retail establishments
start their own small business
qualify for scholarships:  GED, certificate programs, associates degree and even bachelor's degrees.