We are partnered with Daughters of Freedom, (formerly named Destiny Women.)  an NGO in Uganda. Together we have established an Empowerment Program in Kampala, Uganda, that assists survivors from Commercial Sex Exploitation ( CSE) and sex trafficking to assimilate into the workforce. The program provides vocational job training, apprenticeships, work opportunities and mentoring. One of the goals at Amilia's Light is to support in ways that are self-sustaining.
Amilia's Light funds the Empowerment Program, which includes the 10,000 Lights Women's Business Centre, a hair salon, that offers apprenticeships and on the job training, in styling, customer service and business administration.
The Vocational Training Center, opened its doors in early 2018, and provides profession and comprehensive vocational training in hair styling and tailoring. Sixteen young women, all survivors of Commercial Sex Exploitation ( CSE) and trafficking are enrolled and will graduate in December of 2018.
It is our hope to continue to fine tune the program, by providing opportunities for our young women to develop self autonomy, through, vocational training, and work opportunities.  Currently, we are evaluating a program for our new tailoring graduates to earn income from the items they sew.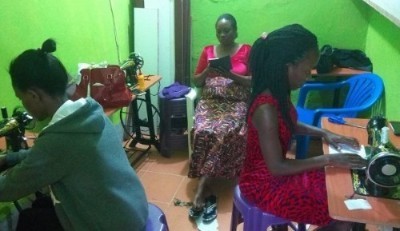 The vision for the Empowerment Program is a holistic approach, treating mind, body and soul. To that end, we are planning to add programs, to address medical and mental health, PTSD, personal development, including self care, financial literacy, goal setting, and job search skills.  
Longer term, our goal is to have a permanent structure for the business center that will house additional businesses and be able to train and employ more women. Our goal is to launch the participants into their own businesses or other careers of their choosing.  Ultimately, we want the empowerment program to become self-sustaining through its businesses.